New adventures, new us, new travels, new memories, a new approach to budgeting tips for families!
Working out a military family finance plan may turn out to be a hassle (as everything in our lives tends to get a tad bit more complicated), and we've been doing a good job so far.
You see how I said "a good job"? Well, I wanted to work on getting it great for more than one reason.
The biggest reason is that I wanted to have more control of the funds in our budget is:
Investing in better quality food,
Having more family travels (you can make them less expensive, but they put a burden on a budget of a family of four),
Teaching my kids how to be smart with money.
Read about my even bigger project as of lately – making the biggest list of military discounts!
So, here are some kickstarter tips that my family is planning on implementing over the coming weeks and making the most out of our financial situation: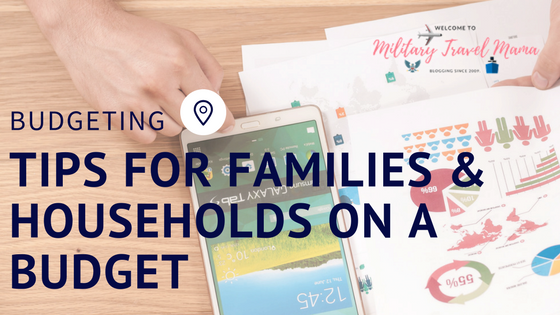 1. Pay off debt.
If you're reeling from the weight of credit card bills, student loans or other debt, a budget can help you see how to dig your way out. Always allot enough money to pay more than the minimum payment due.
Depending on the seriousness of your debt problem, you may want to get help from a credit counseling agency. Some credit counselors are unscrupulous, though, and you've got to be careful not to sink even deeper into debt after seeking such help.
You can check counselors' credentials and be connected to agencies that have made a commitment to certain professional and ethical standards through the and the .
Read also: Managing The Emotional Effects Of Being In Debt
Read also: 6 Ways To Get Out Of Debt
2. Give yourself a buffer.
What's the most you ever spent on your utility bill? Build that highest number into your monthly budget. Also, build in set amounts for emergencies and for "mad money" you can spend any way you want.
With those contingencies covered, you'll feel more comfortable investing a designated amount monthly – something everybody should do in some way, shape or form on a regular basis, even if the investment allotment is small.
Read also: A Comprehensive Guide To Conserving Energy At Home
3. Have a goal.
Whatever your goal may be – a home purchase, a remodeling project, an exotic vacation – it can help you find the discipline you need to squirrel away money by a certain deadline. Reflect on a goal you truly want to meet and resolve to do it.
Read also: Tips For Inexpensive Family Travel
4. Document and Track Your Expenses
This is often an eye-opening task. Many of us have no idea how much of our money is being burnt upon frivolous expenses. For this reason, it is extremely important to consistently monitor and put on record how and where your money is being spent.
Without knowing this, you'll never be able to recognize where you're overspending and where you can afford to cut back. It's important to be very diligent with this, down to the dollar if possible.
Many times we will overlook the smaller expenses, like that morning coffee and donut, and these various small purchases are often the unnoticed culprit. So at least for the first few months of trying to establish a budget, document every expense.
Try getting an old notebook that you don't use anymore or use one of the many smartphone apps available if you prefer. This way, you can systematically identify and cut unnecessary expenses if you see that, for example, a 3rd of your income goes to eating out or forgotten snacking.
Read also: The Lending Mag
5. Gift giving
Set realistic budgets for each of the gift-giving occasions you have over the year (Valentine's Day, Easter, anniversaries, birthdays, baby showers, Christmas, etc.) and add them up. Don't forget to add in expenses for gift tags, wrap, postage (both for orders and for shipping to the recipient).
Then add up the total and divide it by twelve. This is the amount you will need to put into your savings account each month to cover these expenses. Track the savings and expenses on a spreadsheet to ensure you don't overspend. This may result in a little less money in your wallet each month, but it means you will have the cash when you need it and you won't be paying off your gifts with interest for months to come.
6. Discount Does Not Equal Saving
A fellow blogger, Alli, shared a smart one – don't be fooled into thinking you've saved money just because it's on sale! You can check out her equally great piece on saving money here.
7. Change Where You Shop
Looking at lower cost grocery stores like Aldi, Save-a-lot, and Lidle, shopping at thrift stores for clothes and pawn shops for household goods will save you a ton of money on things we're used to lazily paying full price for. It takes a little extra time but it's worth it if you're trying to lower your spending, share Jen from SavingWithSpunk.com – she and her family managed to 
pay off 78k on average income
.
8. Use Unconventional Methods
From fee Walmart Gift cards to actual ways to getting free money, you can actually find so many (somewhat weird) methods to make and save. My friend Todd at MoneyHax.com is all about how you can save more through unconventional methods. They've published ways on how to save on groceries, online shopping, and much more!
9. Be Decisive
Successful people (and debt-free people) act fast and decisively. They do not waver in their decisions because they truly believe that what they are saying is right, shares Edwin from SaveTheBill.com.
10. 401k loan is Still a Loan!
Gary from The Dollar Stretcher shares that many people think that a 401k loan is like borrowing money without cost. After all aren't you just paying the interest to yourself? While there are advantages to borrowing from your 401k there are costs as well. The first cost is that the lower interest rate that you like as a borrower means that your 401k account is growing at a slower rate. And that effect is multiplied by the time you retire. So the $1000 you save in interest costs today could cost you $2k or more when you retire.
A more immediate risk occurs if you can't pay back the loan. Any money that you don't pay back is subject to an early withdrawal penalty (10% if you're not 59 1/2) and will be added to your taxable income.
One final risk is that if you should leave your job (quit, be fired or laid-off) the entire loan is due at once!
11. Do You Really Need That New Thing?
Before you buy anything, ask yourself if you really need it. If you determine that you do need it, can you buy it used? If so, then buy it. If you don't really need it, wait a while before making the purchase as you may forget about it after a while and realize you can live without it, as shared by Pam from Pennysaverblog.com
12. Make it fun!
When my wife and I were getting out of debt, we were on a super tight budget. We would have date nights where the goal was to see how little we could spend. It was actually a lot of fun. We missed those dates so much that we've done it since we became debt-free. Budgeting can be fun if you know your end goal, Kalen of MoneyMiniBlog.com shares.
13. Planning is the key!
Glenda from Expatpetitemom shares that the best thing about planning especially with the month-long groceries, packed lunch or snack for your kids to school is that you have the great chance of scoring lower prices or promotions. Not to mention great discounts when buying in bulk. You will be focused only what you really need or buy as you already come up with a plan or a list. Honestly, and I know you will agree to this, last minute trips to the groceries or just buying the thing when you need them can be more expensive when you factor in the unexpected elements such as gas, time, or other mishaps when unplanned.
14. NEVER pay full price!
Always look to see if there is a discount code online (my fav website to find them is Retail Me Not)
or an offer like 10% off or free shipping, if you sign up for the company newsletter – shares Nicole from Bless their Hearts Mom. For example, I recently used a 30% off coupon at Kohls, on top of their sale price, AND had a free shipping code, which brought the price down from $16 plus $6 shipping for a dance skirt for my daughter down to $6. But don't use a coupon or sale code as a REASON to shop if you're on a budget- use it to SAVE you money on what you ALREADY
were buying, otherwise, you're killing your budget!
Want to add a great family finance tip to this list? Feel free to reach out!
Please follow and like us: