I'm giddy and anxious already – Thanksgiving, Christmas, New Years are just around the corner! It means I get to cook, bake new recipes and spend time with my most loved ones, but it also means I'm not sure how I will handle all the blogging activities.
Where should blogging fit in the holiday-craze?
If you are just like me and don't want your blog to fall on the back burner, you've been searching for tips on how to avoid neglecting your blog during the holidays. Especially if you're just starting out with your blog, you should plan out your activities carefully!
For many, it would be a good thing to kinda step away from their laptops and have a break that will help them freshen up for the post-holiday adventures.
What To Do With Your Blog During The Holidays?
For the bloggers who've been here around for quite some time, this is an awesome time of the year to rejuvenate some of the stale blog post ideas you've had.
Other than that, you can update your old blog posts and schedule them up in your social media accounts.
So, to cut to the chase – if you don't want to put a pause button on your blog during the holidays, what are the most important steps to take?
Read below!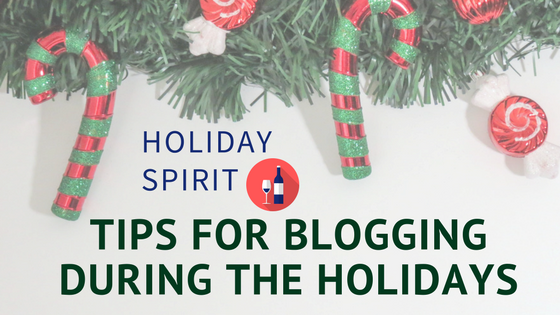 1. Make a Plan
It's more likely than not that you will have little-to-no breathing room during the holidays. So, when on a tight schedule, what's the best thing to do?
Plan, plan, plan!
A good planning tip would be to make an editorial calendar. The next step is filling it out with a realistic plan of your postings. Be generous and make sure not to squeeze things in!
Now, if you have free time on your hands now, start writing down as much as you can right away. Be it whole posts or just outlines, it'll help you immensely when the craze starts!
As my fellow blogger Edwin,
cashthechecks.com
 puts it: "Schedule your posts several weeks in advance. By doing so you'll make sure your blog stays updated even when you're busy."
2. Don't Go For The Heavy Stuff
No matter if you are preparing the work ahead of time (now) or just putting down outlines, it's not easy tackling an in-depth blog post now.
Don't go for the fillers, only, as well. Your blog posts should make it worth your and your readers while, and not be there just to fill a spot.
Make sure to pick out a topic and a layout that will be both fun and a breeze to craft.
3. Leave Room For Your Blog During The Holidays
If you're spending a couple of hours a day on your blog now, during the holidays you may not have that luxury.
Still, if you are visiting it every day – even for just 30 minutes – you'll still manage to hold the reins firmly and keep things under control.
Your readers and peers are going to be active, so it's best not to leave them hanging if they want to hear from you.
Setting aside a certain amount of time will also help you boost your productivity because you will be extra focused on getting done as much as possible!
Holidays And Blogs Should be Fun
I hope these tips will help you out in maintaining your blog during the holidays.
Blogging should be a fun activity, and it should not impose extra stress on you – no matter the time of the year.
On the other hand, holidays are very important to spend with your family, be connected and enjoy your most loved ones.
Pro tip: use the help of services such as Boostlikes that can work on growing your audience during your family time!
By staying organized and using some secret tips up your sleeve, you'll readers and your loved ones will thank you!
Is there any tip I've missed for staying connected during the holidays? Email me at stephanie@militarytravelmama.com and I'll be sure to include you in!
Please follow and like us: