Since I am 5 months pregnant, I am facing my own set of challenges as a military wife. Fortunately, there are various free resources pregnant military wives can use to survive deployment.
As I looked at my toddler standing in the kitchen by the door to the backyard holding the sippy cup, and then I put my hands on my 5- month pregnant belly, my eyes started welling and a lump in my throat developed. I started bawling.
My emotions went into overdrive after my husband went out of that front door with his baggage because he was heading towards that ship for deployment.
This was not my first deployment, but what made it even more frightening was the fact that I had a toddler and was pregnant. The only thought that was stuck in my mind was: 
How in the world am I going to cope?
I was scared, I was confused, I had no idea how I was going to manage anything. I ended up having a complete tear-filled meltdown because that was the only way I could get these anxious and overwhelming feelings out!
However, after I had gotten that out of my system, I was able to take one step back, take a few breaths and collect myself. I knew that being a pregnant military wife was going to be much harder unless I came up with a plan on how to make my life less stressful.
That being said, I came up with 5 life-saving resources pregnant military wives should make use of in order to get through a difficult time.
Read also: The Biggest List of Military Discounts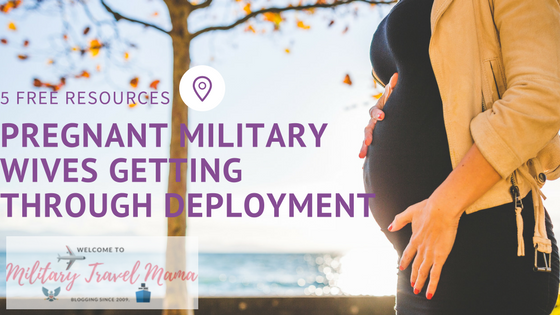 1. Free Classes to Help You Prepare for the New Arrival
For pregnant military wives who live on or close to a base, there are plenty of free classes to take so that preparation for the baby becomes easier.
The Navy and Marine Corps Relief Society put an educational series together called Budget for Baby. I highly recommend this one!
2. Having a Baby Shower will Bring More Joy into your Life
In order to cut the stress down, why not celebrate your pregnancy by having a baby shower?
If you are on a tight budget or haven't yet made friends on the base, but would still like to have that joyous event, there are still some fun options. You can opt for some organizations that are here to help. These wonderful organizations like Operation Baby Shower help pregnant military wives free baby showers who are facing deployment.
3. Packages Filled with Baby Care Goodies
There are several organizations that will send pregnant military wives packages filled with essentials for infants. For instance, Mom4USA will send first-time moms bags of important items for the new baby.
Another organization called Operation Top Knot can send out clothing, bibs, booties, quilts and more for the new baby.
Last but not least, Support Our Soldier's Special Delivery will provide the same kind of gifts, including toys and clothing that can fit the baby up to a year old.
4. Free Breast Pumps
When I was pregnant with my toddler, breast pumps were not covered for military wives.
That really sucked, however, I did discover Milk n MaMas Baby will send you a breast pump for no cost to service members!
5. Legal Help
As morbid as this sounds, you will need to update your wills after the baby is born just in case something were to happen to you which would include guardianship. All bases need to be covered and this is why it is imperative to visit your local base legal shop to get the support you need in regards to drawing up a will.
6. Health Care that is Covered
If you are a pregnant military wife, you are entitled to free healthcare through TRICARE. However, there is a process to become enrolled in their system.
But Before Everything Else…
Be sure to have your important documents, as well as a power of attorney if you are a new military wife. If your service member is deployed and is unable to go with you, be sure to go to your nearest DEERS office to become set up and receive your military dependent ID.
Once you are in the system, you are automatically enrolled in the Standard plan. However, if you choose the Prime option, you must enroll before the 20th of each month so that you are covered for the following month. The instructions can be found here.
Please follow and like us: