Traveling with your entire family can be tons of fun and extremely rewarding as a parent.
However, traveling also involves a fair bit of waiting: for your flight, in traffic jams, before dinner reservations, etc. This is especially true during the holiday season when thousands of families are trekking to see loved ones around the world.
You definitely wouldn't want your kids' eyes glued to your smartphone or tablet throughout your entire trip, but sometimes having a few new TV shows queued up can mean the difference between a smooth flight and a boarding line meltdown.
Read also: Best Snack Ideas For Traveling With Kids
These shows, all available on popular streaming sites/apps, are perfect for toddlers and little kids.
If you have cable or satellite TV at home, you may also be able to download shows from your kids' favorite channels off of your DVR and on to your phone for data-free entertainment.
This is also helpful when traveling internationally, as streaming sites will limit your access to shows you can watch in the US.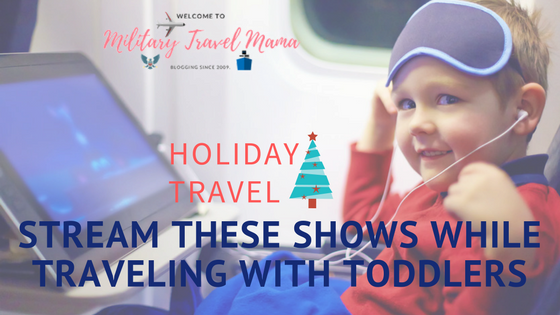 4 Kids' Shows you can Stream While Traveling with Toddlers
1. The Chica Show
Age: 3+
Available: Amazon Video, Google Play, YouTube
This Sprout show features Chica, a young chicken (of The Sunny Side Up Show fame) who goes on adventures to magical lands inspired by the costumes at her parents' shop. The mix of live action and cute animations will entertain your littlest family members!
2. Daniel Tiger's Neighborhood
Age: 3+
Available: Amazon Video, Google Play, iTunes, Vudu, YouTube
This PBS Kids show is a reimagining of Mister Rogers' Neighborhood; you'll be able to tell that it's made by The Fred Rogers Company. Daniel is polite, smart, welcoming and will help teach your kids emotional intelligence.
3. The Hive
Age: 3+
Available: Amazon Video, Hulu
The Hive is a beautifully animated show revolving around young bees' live in and around their hive. Buzzbee, the main character, loves new adventures, making friends and learning right from wrong with the help of wiser community members.
4. Kate & Mim-Mim
Age: 3+
Available: Amazon Video, iTunes, Netflix
Kate and her best friend, a stuffed bunny named Mim-Mim, love journeying to the make-believe land of Mimiloo. This show proves the power of imagination and puts Kate in charge, giving your toddlers the confidence to take their own adventures.
For tons of entertainment ideas for your holiday travels with kids of any age, check out this list of dozens of kids' TV shows to stream.
Featured image copyright: olesiabilkei / 123RF Stock Photo
Please follow and like us: