No matter how hard we try, it isn't always possible to pay top dollar for our wedding. In some situations, future brides and grooms will have no choice but to adhere to a strict wedding budget. There's absolutely nothing wrong with keeping your costs low (or using discounts), and you can still have an amazing wedding.
So don't fret and fear your low-cost wedding will lack style and class because nothing could be further from the truth.
Read also: 3 Questions to Ask When Planning A Military Wedding
So stick around to our best wedding budgeting tips.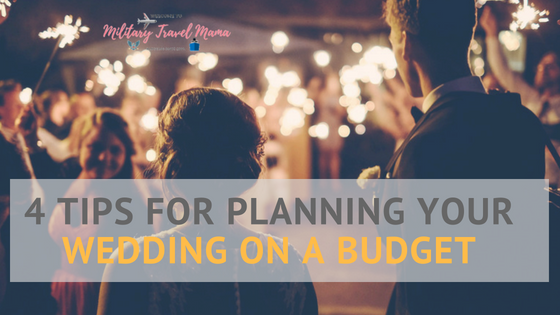 Solving the Honeymoon Registry Dilemma
Do you plan to take an unforgettable honeymoon? For many of us, it might not be in the cards because it's just too expensive. On the other hand, if you forego a traditional wedding registry and set up a honeymoon registry instead, you can still take the vacation of your dreams with your loving spouse.
So think about your personal situation. If you already have a house or apartment filled with everything you'd typically get as gifts at your wedding, you should skip the traditional registry and start an online honeymoon registry instead. So, as far as your honeymoon registry dilemma is concerned, you can solve it easily with the site hyperlinked earlier.
How to Find a Low-Cost Wedding Dresses
It may seem impossible to some of you, but you can certainly find low-cost wedding dresses if you put your mind to it. Your options include buying off the rack wedding dresses from department stores, buying high-quality wedding dresses from mass-market retailers, sample sales, buying inexpensive wedding dresses that aren't white, or buying your wedding gowns online.
You can find a low-cost, affordable wedding dress attempting each one of the options mentioned above. So try each option, give it your all, and you'll find the perfect wedding dress in no time without spending a small fortune to acquire it.
If you know where to look, you'll have no trouble finding reasonably priced wedding dresses, bridal gowns, wedding gowns by Azazie because we'll gladly point you in the right direction.
Discover the Perfect Catering Hall for Your Wedding
Choosing the right catering hall for your wedding is easier than you think. Things to consider include the size, the amenities, and the price.
As an example, if you plan to invite 200 people to your wedding reception, you'll need to find a catering hall that can accommodate 200 people or more. If the price is a factor, determine your catering hall budget and only look at possible options that fall within this requirement. Plus, we all want certain amenities at our wedding reception, so make sure the catering hall can deliver the goods. Otherwise, you'll be unhappy and dissatisfied if you decide to rent a location that cannot meet all of your needs.
Cater Your Own Wedding
Paying for appetizers and meals can be quite expensive at weddings. If you know how to cook or have family members willing to help, you can technically cater your own wedding.
Maybe someone in your family owns a restaurant. Hire them to handle the catering. They can either give you a significant discount or provide the catering for free in lieu of a traditional wedding gift.
Final Thoughts
By using the tips we've shared above, you'll have no trouble planning your wedding on a budget. Other budget-friendly possibilities include using minimal flowers, creating your own invitations, being your own DJ, stocking the bar yourself, comparison shopping for decorations, buying affordable wedding rings, and many other wonderful possibilities.
If you approach wedding planning this way, you'll discover how easy it is to have a magnificent budget-friendly wedding without overspending.
Please follow and like us: