Are you and your partner looking to get married but you are unsure of how to plan a military wedding?
Firstly, congratulations! That is so exciting!
You are absolutely smart to start asking questions ahead of time before you begin to plan because there are things you must know when it comes to planning a military wedding.
Planning a wedding? Please check out my big list of military discounts with lots of wedding-related discounts!
See, planning a military wedding is not like planning a typical wedding! There are several factors that you need to consider during the process.
So let's break it down for you so you know the three key questions to ask while you are planning your exciting event: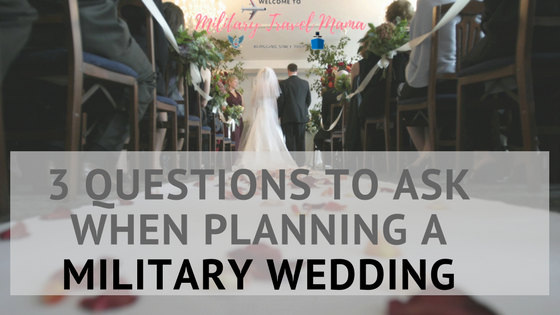 What About Distance When Planning a Military Wedding?
That is a great question to ask because the fact of the matter is that that whenever you are involved in the military, moving is pretty much a guarantee!
The truth is that military brides and grooms have to consider when they planning a wedding that they will be serving at stations away from home.
So that being said, it is a good idea for brides to designate a trusted family member or friend to help locally by checking out venues, coordinating details, and meeting with vendors. This will take a lot of stress off of you.
Should Traditional Military Traditions Be Included?
Keep in mind just because you are in the military does not mean that the traditions must be incorporated. However, at the same token, many military couples commemorate their service on their wedding day, by the groom dressing in uniform.
The members of the groom's wedding party that are part of the military branch will also wear uniforms. You may feel it is right to have your wedding dress in uniform but most military brides choose to have a traditional grown.
That is really up to you and only for you to decide! There is no right or wrong answer to that.
Is it Likely that the Wedding Will Happen During a Popular Holiday?
The fact of the matter is it is common for military couples to set their big date around a holiday due to the fact that they have scheduled leave time.
That said it is common for military couples to plan their weddings around Christmas, Labor Day, Memorial Day and Independence Day. That is something that you will have to likely consider as well. However, if you choose to do plan your wedding during these popular times you will want to act fast and book your venue.
You will have to book your DJ, caterer, and photographer well ahead of time and also be aware that the cost will be higher simply because of planning your wedding around a popular holiday. But other purchases, such as wedding bands, can be done in advance and with some great military discounts as well. A great example is this discount for military couples and it's season and location independent. Please visit Allurez to find the most attractive wedding bands for you and your special man!
So these are the three questions to ask! And once you have everything planned out well then you will have no problems and have an exciting and wonderful wedding day! Congratulations once again for being ready to make this huge step. I wish you all of the wealth, health and happiness around!
Please follow and like us: