As a military wife and mom to 2 babies (well one toddler and one infant) with their dad and my husband often deployed, money becomes tight so quickly. That is the general introduction of how I taught myself to ask for a military discount.
I have learned how to not let finances stress me out too much because I have learned how to become frugal. I have also given tips to miliary families on how to stretch their dollars as much as they can because again, money is tight around here.
Actually, any family, especially with young kids, would benefit from my frugal living tips as well.
Being frugal doesn't only include waiting around for companies to announce when they will be having sales. I mean you should still always keep an eye out for these announcements.
I am talking about going ahead and asking for military discounts yourselves. Obviously, this part only applies to military families – whether they are on duty, retirees, veterans or dependents. They are eligible to receive military discounts.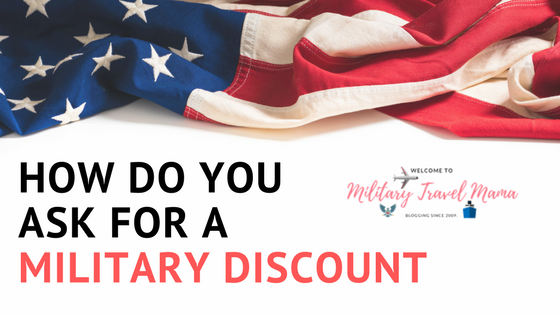 The Only Problem With Military Discounts
The problem is that so many military families miss out on these discounts that they could be taking advantage of because they don't even know that they exist. Or if they do know that they exist, they don't know how to get them.
I am here to tell you exactly how you can ask for military discounts.
There are so many businesses that offer them because that is their way of showing appreciation for how we serve our country.
However, very few companies actually advertise that they offer these. So there is one way to find out – and that is to ask!
That's right. Ask any business – regardless of what it is – whether it is a restaurant, pizza delivery service, amusement park, clothing store, shoe store, and home improvement stores just to name a few. Ask if they offer military discounts. You will be shocked to hear how many say "yes".
He Who Does Ask for a Military Discount, Wins
Even if companies that normally don't offer them, some may give you a discount anyway.
All you have to do is show proof that you are eligible by showing them your military ID and there you go!
Do you realize how much money you would be saving if you remembered to do this all of the time whenever you shopped around for a good or a service??
The worst possible scenario is if you ask and the answer is no, then you will have to pay full price as some companies will not offer the discount. It will be up to you if you want to do business with that kind of company again.
However, if you don't feel comfortable asking at the store or restaurant face to face – you can always do research beforehand by calling up these companies and asking them if they offer discounts. You will want to ask specific questions about being eligible because some stores will offer discounts to those on active-duty but not to veterans.
If you're not in the mood for calling, you can always check out my huge list of military discounts I'm currently collecting.
You also need to keep in mind that store policies can change without any warning, and may be different depending on the location as well. However, the easiest way to get military discounts is to ask!
Please follow and like us: