You know how a food hankering happens? This one came on after a beautiful morning running and swimming off Florida's Daytona Beach. Bright sun and cool sea added up to a ravenous hunger. For flavorsome food, with a citrus tang, and just a little saltiness.
Honduran.
Once you've tasted the unique flavors of this central American cuisine, you find yourself hankering for days, months and even YEARS later. So it's a pure misfortune for the world that Honduran cuisine can be scandalously hard to find.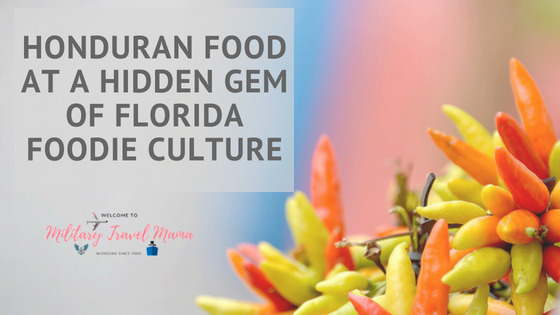 Would my hankering for Honduran be satisfied?
The answer was an affirmative YES! Because Daytona Beach, it just so happens, is graced with one of the best Honduran kitchens you're likely to find.
"Chucherias Hondurenas is a charming place, that those in the know choose for intimate dinners, special events, and romantic occasions."
Chucherias Hondurenas is well known among locals, but because of its setting a little away from the main tourist area, it's easy for visitors to miss. Which is a shame, because it's one of the best foodie experiences Daytona has to offer.
Never judge a book by its cover or a restaurant by its locale. The setting, tucked into a quiet residential area a few blocks back from the beach, is nondescript. Chucherias restaurant is housed in The Market, a historic building dating to the late 1930s, built from Spanish coquina stone, that gives it the style of a Franciscan monastery. But it's inside the walls that Chucheria's impresses.
The Market hides a beautiful woodland courtyard. Old Spanish oaks shade this little oasis in the heart of the city and seasonal blooming flower beds fill the air with delicately scented aromas. It's a perfect location for weddings and catered events. Chucherias Hondurenas is a charming place, that those in the know choose for intimate dinners, special events, and romantic occasions.
One of the best selections of Spanish wines in Florida is cellared at Chucherias Hondurenas, including numerous Denominación de Origen and Vino de Pago single estate wines, including Marques de Murrieta Castillo, Ygay Rioja Blend, and Macan Tempranillo. But Chucherias is known for its sangria specials, so order a glass and relax either in the splendid courtyard or in the cooler stone-walled restaurant inside.
"We first learn to love food by eating, and as a young girl Mayra ate all the traditional foods that came from her mother's kitchen."
Honduran cuisine is built on dishes that date back hundreds of years, before the Spanish colonization. The Lenca are the country's largest indigenous group and it's their styles of cooking that shape the Honduran taste. Cut that together with a wide variety of Latin food styles, Caribbean and African, and you get one of the world's most diverse and tasty food experiences.
The menu at Chucheria Hondurenas is the creation of chef and proprietor Mayra Rodriguez. We first learn to love food by eating, and as a young girl, Mayra ate all the traditional foods that her mother cooked, leading her to fall in love with the culinary arts. To establish her own restaurant became Mayra's lifelong ambition. Now all of her passion and expertise go into the food served at Chucherias Hondurenas.
The Shrimp Machuca at Chucherias Hondurenas is a great way to savor Mayra's fusions of flavor and style. Shrimp seared in coconut oil are an absolute favorite in the Honduran diet, with a chimol sauce that is the epitome of Salvadoran taste. But the dishes that come from Mayra's kitchen have a distinct and contemporary European influence. A bed of cassava root and garlic puree twists this traditional dish in a new direction.
Carnivores will be well satisfied at Chucherias Hondurenas. Alongside a top quality selection of seafood are some fine cuts of favorite meats. Catracho is a Honduran staple, beef tenderloin with refried beans, shredded cheese, avocado, and chimol. Yum! But my meal is rounded off with roasted pork, marinated in sour orange and herbs and accompanied by sweet plantain. To die for!
I can say without hesitation that Chucherias Hondurenas satisfied my hankering for Honduran. But the beauty of Mayra Rodriguez kitchen is how it reaches beyond cooking tradition, adding contemporary flavors to old-style taste experiences. Chucherias Hondurenas is both a satisfying meal and a foodie experience, all wrapped up in one of Daytona's most exquisite outdoor dining experiences. Highly recommended.
Please follow and like us: