If your little one hasn't discovered the gem that is Hey Duggee, you need to introduce them to the adventures of Duggee and The Squirrel Club.
Read more: Stream These Shows While Traveling With Toddlers
What is Hey Duggee?
Hey Duggee is one of a few children's TV shows that won't drive parents crazy. The animated stories are actually really entertaining, and the series seems to be made, as much for parents as it is for children.
The star of the show is Duggee, a big dog and leader of the after-school club, called The Squirrel Club The squirrels are Betty the octopus, Roly the hippo, Tag the rhino, Norrie the mouse and Happy the crocodile and go on adventures together and earn activity badges.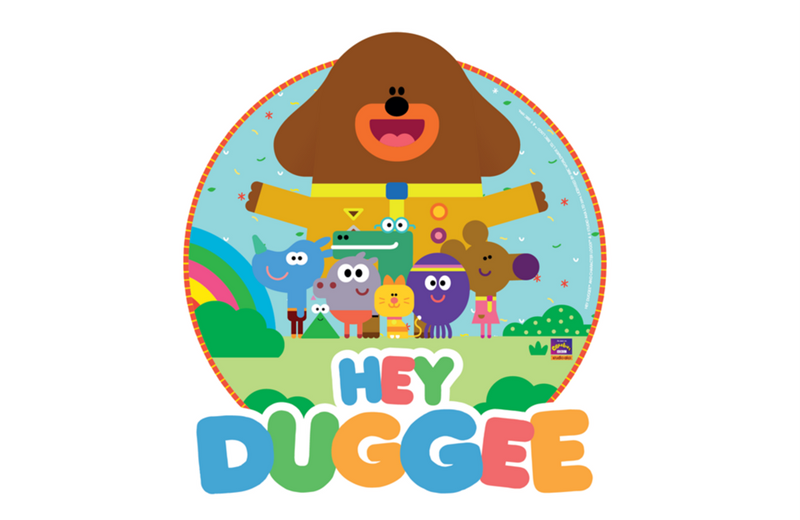 Hey Duggee Episodes
Each episode begins with Duggee welcoming the squirrels and there begins lots of laughter and learning as they discover the world around them. The squirrels undertake activities, or a situation presents itself that requires a problem to be solved and the squirrels learn new skills, earning them one of Duggee's badges.
Every episode ends with a big Duggee hug.
The Influence
Not only is Hey Duggee educational and provides a positive influence on youngsters, but it has hilarious storylines that are so entertaining and is great fun for young and old. Each episode is a delight with adorable characters, colorful animation and simple storylines that promote exercise, learning and fun!
Merchandise
In addition to the DVDs, Duggee has achieved stellar toy sales with a full range of fun figurines and playsets of all the characters and cuddly soft toys available for purchase at Funstra and other leading toy stores. The official licensed merchandise range has also introduced a wonderful selection of infant feeding products and tableware.
Awards
It's easy to see the appeal of this animated preschool series – Hey Duggee has been cleaning up awards since its debut, with a BAFTA in 2016 and an International Emmy award in 2017 and the show was awarded the best pre-school series at the 2018 British Animation Awards for the episode called 'The Tadpole Badge', where Duggee makes a beautiful rock pool for the animals to enjoy and the squirrels spot some tadpoles and earn their tadpole badge.
Conclusion
The CBeebies show has now aired two seasons with over 90 episodes. With an audience aimed at two to five-year-olds, Duggee and the little squirrels have quickly acquired a mass following of little fans that can't enough of the illustrious badges. And Duggee and the squirrels are here to stay with another jam-packed series of 52 brand-new episodes of fun, badges and clubhouse adventures announced by Studio AKA to premiere in 2018.
Stop what you're doing now and go and watch an episode. A-woof!
Please follow and like us: