Sydney is a city of culture, nature, business and art. So if you have decided to move here for good, we can only congratulate on your choice. With great career choice, it is most probable that you will find what you're looking for right here, and be able to live a healthy and comfortable life. However, moving to a different city can have all sorts of hidden costs, unexpected situations and difficulties to solve. Here's what you need to know about Sydney before moving here which can help you get settled quickly and head on with your new life.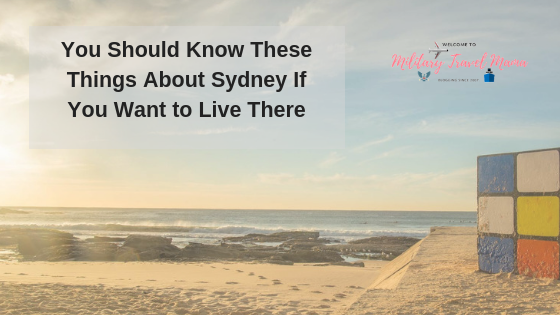 Finding a job in Sydney
Let's face it, Sydney is the largest Australia's city, is also a relatively expensive one. On the other hand, there is a broad spectrum of career opportunities for everyone, so it is possible for you to have a decent life here.
In Sydney, there is work for everyone. Work industry is diverse and abundant with opportunities and openings. Preparing your resume is crucial; once you have, you can start your search on sites like Indeed, Seek and LinkedIn.
The corporative centers are CBD, Macquarie Park, North Sydney and Paramatta. Creative field jobs can be found in the inner city and eastern suburbs. Working from home is a great perk when living in Sydney, due to its bad traffic points. So if you have the chance of working from home, grab it.
Transportation
One of the few bad things in Sydney is traffic. It takes some time to adjust to the average commute time in Sydney, which is around 70 minutes. Owning a car is not the ultimate solution since there is not much parking space in the inner city. On the plus side, public transportation in Sydney is pretty good. Buses, ferries and trains commute through almost every city area and the suburbs.
There is also Australia's largest car share network, GoGet. This car share allows you to use one of the thousands of vehicles conveniently located across the city and easy to drive. This way you will save on rego, insurance and the fuel, and have access to cars, vans and convertibles by the hour. This is not the option for everyone, but you should give it a shot.
Food
Regarding food, Sydney has a disbalance between the price of groceries and restaurant prices in comparison with some other big cities like New York, Los Angeles and Paris. Restaurants are not that expensive compared to groceries. Supermarkets are not that well supplied with great food as you might expect. There are organic markets all over the city, selling wholefoods. Farmer's market opens only on weekends, but it's worth the wait. You can find cheap eats all over the city, covering all types of cuisines, from Chinese to raw food.
Housing costs
In January 2017, Sydney has been announced to be the second most unaffordable major city in the world. Whether you looking for a rent or to buy a place of your own, Sydney is mad with prices. As in every other big city, prices vary from area to area.
Monthly rentals for 1 bedroom flat go from $2000 in City Centre to $1380 outside of the City Centre, while 3 bedroom flats go for around double that price.
As for purchasing, price per square metre goes from $13,500 in City Centre to around $9,000 outside the City Centre.
Suburbs offer more affordable housing options, and they are well connected with the rest of the city. So if you don't mind commuting every day to the city and back, the suburbs are your place to look. In the west there are the northern Hornsby region, Parramatta and Black town, while in the souths there is Miranda, offering essentials to their locals and much lower prices on the housing.
There are a lot of factors to consider when buying a property in Sydney. It wouldn't mind doing a deep research before making any decisions. However, hiring a buyers agent in Sydney to help you with research and make the final decision may be the smartest idea. These are professionals who know the market and their job well, so you would get all the help you need.
Internet costs
This might also be an interesting feature of life in Sydney. Compared to the rest of the world, the internet is rather expensive. Prices for a 24-month package vary from $30-$90 unlimited data.
Alcohol costs
Sydney sure knows how to party. This city is abundant with pubs, clubs, and all the places that provide the good times. Luckily, the alcohol is not so pricey, so there is something for everyone's pocket. A pint of beer in a pub costs $6-$10, while in the supermarket can be found at the price of $4 and higher. Mid-range bottle of wine goes from $12 to $22. If you are looking for a cheap alcohol deal, you should move around the university campus and follow the students, they always know where the cheap booze is.
Moving to another country or just a city can be a lot of stress. Getting all the information in advance can help avoid unpleasant surprises and unexpected costs.
Please follow and like us: