As an American, when I hear someone mention Spain I automatically conjure up images of Madrid, Barcelona and the running of the bulls in Pamplona.  Don't ask me why, but I guess those places are the ones we see mentioned most in the media.
Travelling, however, has opened up my mind to realize that there is a lot more to a country than our perception of it and Spain certainly has more to offer than I ever imagined.
Read also: Traveling in Eastern Europe? Bear This In Mind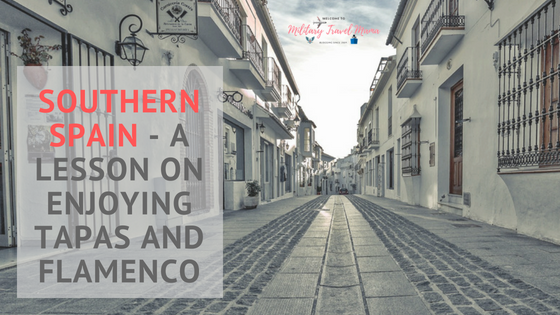 Southern Spain, in particular, opened my eyes to a world I never knew much about, a land where everyone seemed to live for the next fiesta, a place where the joy of being alive trumped work any day of the week.
Economically poor compared to the rest of Spain, Andalusia is the richest when it comes to culture with tapas made from the freshest seafood and flamenco around every corner. The province is also home to numerous UNESCO World Heritage sites, including the amazing Alhambra in Granada.
For my base, I choose the beautiful seaside town of Nerja, famous for its Balcon de Europa overlooking the Mediterranean Sea and a series of impressive caves that stretch for over 3 miles.
Currently, the only flights from the United States to Spain arrive in either Barcelona or Madrid so I opted to take a flight to Madrid and then a short internal flight to Malaga. Having done my homework prior to my vacation, I arranged my taxi to Nerja in advance & enjoyed the one hour journey from the airport.
Blessed with some of the nicest beaches you will find anywhere outside of the tropics the facilities you will find on the "Blue Flagged" beaches around Nerja are second to none.
With plenty of bars and restaurants, it was easy to see why so many Europeans would pick Nerja for their summer vacation and never set foot out of town as there was so much going on.
On the other hand, I had come to explore and had placed the Moorish Palace of Alhambra top of my list of places to see in Andalusia.
The beauty of the place just took my breath away with it being hard to imagine that such an ornate place could have been built all those centuries ago. The water gardens, in particular, were impressive and especially so when you consider the water supply to the palace was from the Darro River nearly 4 miles away.
Alhambra Palace Granada tickets Tip: There are only a certain amount of numbers allowed in to visit each day, so to avoid disappointment buy your ticket well in advance from the official ticket outlet.
My other must-see was the amazing stone bridge spanning the El Tajo gorge separating the old town of Ronda from the new. First declared a city by Julius Caesar in the first century AD and later conquered by the invading Arab armies Ronda is a thriving town with history on display everywhere you turn.
I, of course, was not the first American to discover the delights of Ronda with the city having been a favourite haunt of both Ernest Hemingway and Orson Wells. The Hollywood actor loved the town so much that he even had his ashes sent to Ronda from California for burial.
Now with my culture vulture completely satisfied it was time to head to the jet set town of Marbella to find out what was so great about the place. If you don't believe all the hype Marbella has of being a town for the rich and famous all you need to do is visit Puerto Banus and take a look at all the super yachts that are moored there.
Don't be fooled into thinking that the town is off limits for people who work for a living as there are plenty of places you can go for a reasonably priced meal and a sun lounger on the beach.
The time had come for me to head back to Atlanta after what seemed like a whirlwind adventure in a Spain I never knew existed but would be happy to come back to anytime. So it was with a heavy heart that I arranged my journey home. Yet in the back seat of the taxi to the airport, I vowed to return again as soon as money and time permitted.
Please follow and like us: