My husband is still in the forces, and we've been so blessed with our strong emotional bond and support we give each other. Our marriage and children have helped him immensely with dealing with his challenging career path.
However, so many veterans end up with all sorts of emotional trouble during and especially after leaving the forces. Many end up homeless and some turn to substances.
That hurts each member of the military and we all pray and work hard that such problems are avoided as much as possible.
Read also: The True Face of Military Marriage – What It Really Looks Like
For those that get caught up with drug problems, there is help.
Detoxing and healing are hard, fortunately, there is a number of amazing centers out there that make rehab with a SMART treatment plan a lot easier.
If your family member, friend or partner are dealing with these issues, give them your best support you can. As soon as they feel they are ready for rehabilitation, make sure to be an even bigger support for them.
Read below and research your options to present them. Let's take a look at some of the best drug detox centers worldwide.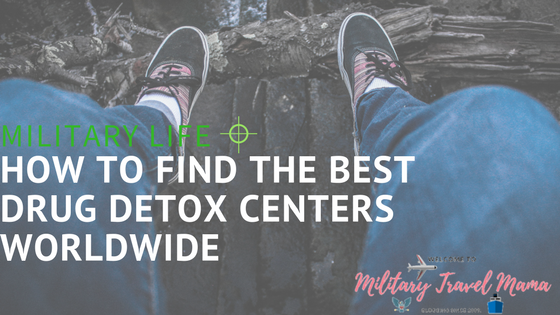 Alo House Recovery Center
Malibu is synonymous with the good life and is one of the most beautiful places in the USA and perhaps even on earth. Alo House Recovery Center is situated in this fabulous area and is renowned as one of the best detox retreats worldwide for those looking for a fresh start. Their rehabilitation philosophy is based on providing non-judgmental, loving support for our clients. The center has a number of rehabilitation options and is especially noted for its aid towards young adults that need help. It's a therapeutic healing community where a lot of positives come to the fore. 
Park Igls, Austria
As you make your way down the Australian countryside, the fresh mountain air will engulf you as you make your way to the detoxification process. The Park Igls is a Mary medical clinic that is surrounded by the stunning Tyrolean Alps. The main objective of the detoxification process here is cleaning out the entire system for a healthy outlook on life in general. The staff will ensure that your diet and exercise plan g hand in hand to obtain this objective. The Mayr Metabolism and Detox Programme has been specifically designed to allow those who suffer from food intolerances, high cholesterol, and diabetes enjoy this program.
Tranquility Woods – Pasadena, Maryland
Tranquility Woods is located in a secluded and serene part of Maryland that tends to blend holistic and traditional treatment methods to ensure the individual treatment needs of its patients.
Once the guests have undergone detox, the patient will benefit from a 12-step behavioral addiction recovery system. Each week, the guest will participate in a one-on-one counseling session The clinic offers both private and semi-private rooms, in addition, the families can also attend a weekly family support offering.
Some other features you will find at Tranquility Woods:
Massage Therapy

Acupuncture

Dual diagnosis treatment
Vilalara Thalassa Resort, Portugal
If you are looking for a chance to be spoiled while you detox you should look into Vilalara Thalassa Resort in Portugal. Here they offer four various programs that range from four to ten nights. If you are looking for the shortest time for recovery, the best option would be the four-night Longevity Juice Fasting Detox. Once you have gone through a clinical examination, medical exam, health check, and a biophysical evaluation you will begin the liquid diet. While the thought of a liquid diet may seem unsatisfying, you will have five detoxifying shakes, soups, and juices that will help to cleanse your body.
Greenhouse, Dallas, Texas
The Greenhouse has built all of their programs around the idea of research-based therapeutic modalities to give their patients the very best in care. The center provides it patients with:
Individualized treatment plans in a luxury spa setting that is designed to calm and relax. Spa services as well as gourmet meals throughout the day in a caring and friendly environment.
Sunspire Health Hilton Head – Hilton Head, South Carolina
This center uses a mixture of both holistic and abstinence-focused strategies to help patients achieve a long-term recovery.
The guest is encouraged to try a wide assortment of activities not limited to:
Concerts

Bake offs

Bowling Competitions

Miniature Golf

Movie Nights

Beach Outings

Museum Excursions
The center is located on the beautiful island of Hilton Head in a gorgeous renovated hotel just a short walk from beautiful white sandy beaches. The serene location is the perfect opportunity for patients to relax and reconsider the choices they have made and to enter into the first steps of recovery.
Please follow and like us: